GOOOD PLAN, Rental Plans
CUCKOO GOOOD PLAN™ – PRIME X1

MAKE CUCKOO'S PRIME X1 THE PREMIER PRODUCT IN YOUR HOUSE
FROM ONLY RM75* A MONTH!
Choose from 8 different packages and decide on your monthly fee and repayment period for your brand-new Prime X1, Outdoor Water Filter. From the laundry room to the garden, the Prime X1 will ensure you don't have to worry about the quality of water anymore!
Now that's a GOOOD Plan!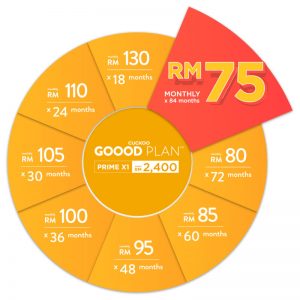 Benefits OF CUCKOO GOOOD PLAN™

FLEXIBLE
Up to 8 plans to choose from, from as low as RM75.00 a month to as short as 18 months. Lower monthly fee or a shorter repayment period? It's your call!

AFFORDABLE
It's the ownership programme for a CUCKOO Outdoor Water Filter with the lowest monthly fee in the market! With the CUCKOO GOOOD PLAN™, you can own the Prime X1 Outdoor Water Filter at a much lower price and enjoy free servicing for as low as RM75 per month!

WORRY-FREE
Enjoy all the benefits (filter replacement, servicing and warranty) until your repayment period ends!
Ken Keng
Natural Manager (10053)
Sales Division
012-4386478

ken.cuckoo@gmail.com