CUCKOO PLANS, GOOOD PLAN, Promotions, Rental Plans, Water Purifier
CUCKOO GOOOD PLAN™ – VIVID
Get healthy water from the biggest hot water tank in town
For as low as RM85 per month,
you can drink healthy and clean water every day with VIVID Water Purifier!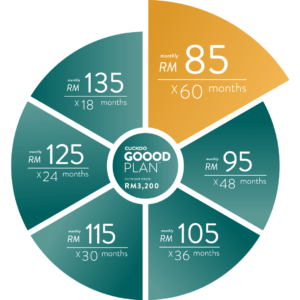 Benefits OF CUCKOO GOOOD PLAN™
Up to 6 plans to choose from, from as low as RM85.00 a month to as short as 18 months. Lower monthly fee or a shorter repayment period? It's your call!
It's the ownership programme for a CUCKOO Water Purifier that has the biggest hot water tank in town! With the CUCKOO GOOOD PLAN™, you can own the Vivid Water Purifier at a much lower price and enjoy free servicing for as low as RM85 per month!
Enjoy all the benefits (filter replacement, servicing and warranty) until your repayment period ends!